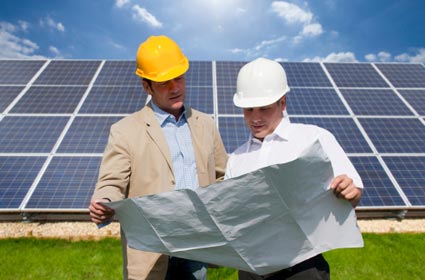 Alternate Titles and Related Careers
Commercial Project Engineer

Director of Engineering and Operations

Principal Electrical Engineer—Solar PV

Principal Systems Engineer—Solar Systems

PV Power Systems Engineer

Senior Renewable Energy Systems Engineer—Solar

Solar Energy Engineer

Solar PV Systems Engineer

Solar PV Utility Manager

Solar Systems Designer
This is a "Bright Outlook" and "Green New and Emerging" occupation in the renewable energy generation sector of the economy.
Job Trends
The Bureau of Labor Statistics projects an average growth rate of 7 to 13 percent for the engineering category. However, as a "Bright Outlook" occupation, solar energy systems engineers should see expanded job opportunities.
Nature of the Work
Solar energy systems engineers conduct engineering site audits to collect structural, electrical, and related site information. This information is used to design solar hot water and space heating systems for new and existing residential, commercial, and industrial structures. In the design process, solar energy systems engineers apply knowledge of structural energy requirements, local climates, solar technology, and thermodynamics.
According to O*NET, solar energy systems engineers may perform the following job tasks:
·        Design or coordinate design of photovoltaic (PV) or solar thermal systems, including system components
·        Create plans for solar energy system development, monitoring, and evaluation activities
·        Perform computer simulation of solar photovoltaic (PV) generation system performance or energy production to optimize efficiency
·        Develop design specifications and functional requirements for residential, commercial, or industrial solar energy systems or components
·        Create electrical single-line diagrams, panel sçhedules, or connection diagrams for solar electric systems using computer-aided design (CAD) software
·        Create checklists for review or inspection of completed solar installation projects
·        Provide technical direction or support to installation teams during installation, start-up, testing, system commissioning, or performance monitoring
·        Develop standard operation procedures and quality or safety standards for solar installation work
·        Design or develop vacuum tube collector systems for solar applications
·        Perform thermal, stress, or cost reduction analyses for solar systems